Opening of Amaru Spirit

We are open. Please call us on 
+51 970 822 650
or
[email protected]
 for any questions.
"When diet is wrong medicine is of no use. When diet is correct medicine is of no need." - Ancient Ayurvedic Proverb
Welcome to our Amaru Spirit
Amaru Spirit is a family owned natural medicine holistic healing center located in the Amazon rainforest, half an hour boat ride outside of the city of Iquitos. In 2008 we began our mission with a single intention: to create a safe holistic community suitable for the restoration of mind, body and spirit. This work is our passion and calling.
Our purpose built facility was designed to ensure maximum comfort to our guest's in this transformative process who travel from all over the world specifically to address toxicity=physically, emotionally, mentally and spiritually, dis-connectedness, dis-harmony and dis-at-ease. We create a comfortable space because detoxing the system can, at times, get us out of our comfort zone. We are here to recommend protocols and guide each unique individual process of each unique individual. It is your process, you own it, we are here to guide it if you need assistance and we strongly believe one size does not fit all.
Slocum's Paintings
Greetings from the jungle
Hello All, 

I trust everyone has been adapting to the situation as we all have. There were many days I felt like Bill Murray in Groundhog Day, fortunately, I focused my energy on drawing and painting which helped keep my sanity. 

It looks like we will be opening the center the first week of January as long as there is interest. It has been challenging to keep things going, we have kept two guards to protect and maintain the grounds, it is amazing how rapid the jungle can overtake things when not using the spaces.
Browse Paintings (Read More....)
Who are we?
David 'Slocum' Hewson is the owner and founder of Amaru Spirit, a holistic healing center located in the Amazon jungle. He lives on the property with his wife and two children.
Having spent 20 years as an artist, Slocum moved to Iquitos, where he dedicated much of his time to painting subjects from the Peruvian Amazon. Following many years of study with traditional shaman and undergoing extensive plant diets and initiation, he designed and built Amaru Spirit. In addition to creative expression through art, which he feels is greatly enhanced through the use of plant medicines, Slocum believes that a modern understanding of nutrition and physical cleansing can be combined with the ancient shamanic art of healing the body and spirit through the use of plant medicines; and the two are necessary and synergistic.
In order to provide the highest quality of service to our guest's, Amaru Spirit employs a large number of local staff to support the operation. The Amaru Spirit family includes our live-in shaman and his wife, as well as kitchen, laundry, cleaning, maintenance, and grounds staff. 
The modalities in use at Amaru Spirit include
What we provide?
 

Detoxification with body clay, cleansing and reinvigoration with plant and flower baths.

 

Detoxification and cleansing of the energetic body with herbs and master plants.

 

Cleanses and flushes for detoxification and rejuvenation with top-quality Western supplements.

 

Balancing the physical body with a healthy and nutritionally focused diet consisting of organic produce and Superfoods.

 

Clearing and healing of the soul with a variety of herbs and medicinal plants. 
Why choose us?
At Amaru Spirit, we know that one size doesn't fit all. This is the underlying principle in our approach to health, rejuvination and system balancing. As such, we will explore and identify the different dimensions of your own process. We work closely with all of our guests to ensure you receive the highest level of attention possible.
We are an informal, family owned center with no fixed-date programs.
We customize individual needs and use tough love when necessary.
We will provide a prompt and detailed response to the submission of your inquiry or booking form.
Prior to arrival we will advise you how to prepare yourself before your visit.
Our English speaking staff will transport you to and from the airport or your hotel.
On arrival you will have a consultation, so that we can ascertain your intentions and aspirations for personal growth. What do you want out of your experience at Amaru.
Our mainly private and communal accommodations are furnished for your relaxation and introspection with hammocks, proper innerspring mattresses with mosquitos nets, 100% cotton sheets and towels, toilet paper, candles, incense, soap and lighters.
All of our meals are delicious, healthy, and nutritious, comprising of fresh organic produce and Superfoods. We serve a vegan and vegetarian menu, occasionally we serve local wild fish, deer bone broth or free range chicken if requested(though not for those doing the liver/gallbladder flush)
Throughout the center, including the showers and sinks in all the houses, we have really high quality, purified water with 8 customized filters. We also have the water filtered another 7 times with Korean filtration always available in the Big House.
We include comprehensive energetic readings which will be discussed with you, and will ascertain the methodology that matches your individual requirement.
We explore a range of different holistic modalities, including Western & eastern style detoxification. We also offer master plant diets to expedite the detoxification process, and advance your internal process and development.
We offer personal limpiezas(energetic clearing) in ceremony or when requested if necessary.
Following the completion of your stay, if you need any help or advice regarding your integration process, we remain at your service and offer guidance via internet after you return.
Our Available Retreats
What you need to know about Amaru Spirit and our programs:
All programs can be booked at any time, there are no fixed-dates and programs can be extended on request.
Note that there are some weeks during the year that we are closed, and there are some weeks where Slocum or Nicky are not available (please check the Calendar page).
All services are included in the cost of the program (with the exception of transport to/from the center and laundry).
We provide very comfortable mosquito netted jungle huts (tambos) with adjoining Western style bathrooms.
Meals are made with high-quality fresh and organic produce and include a superfood diet to support cleansing and healing.
One-on-one attention and consultations are provided to support your specific healing goals.
Plant dietas (for example, tobacco, bobinsana, chiric sanango) for the customized retreat are available on request and are usually only undertaken by guests who have previous experience with plant medicines.
Please let us know if you are interested in doing a plant dieta as these can only be done when Slocum is available.
To apply for any retreat, please complete our questionnaire/booking form.
The Customized Individual Retreat gives you access to all of our plant medicine treatments over the course of your stay. You choose your arrival and departure dates, and we will design a program to meet your healing and growth aspirations. During your first ceremony, you will receive an energetic reading performed by our shamans, which will help us to further tailor the sequence of plant medicine and plant diets to ensure you get the most out of your stay.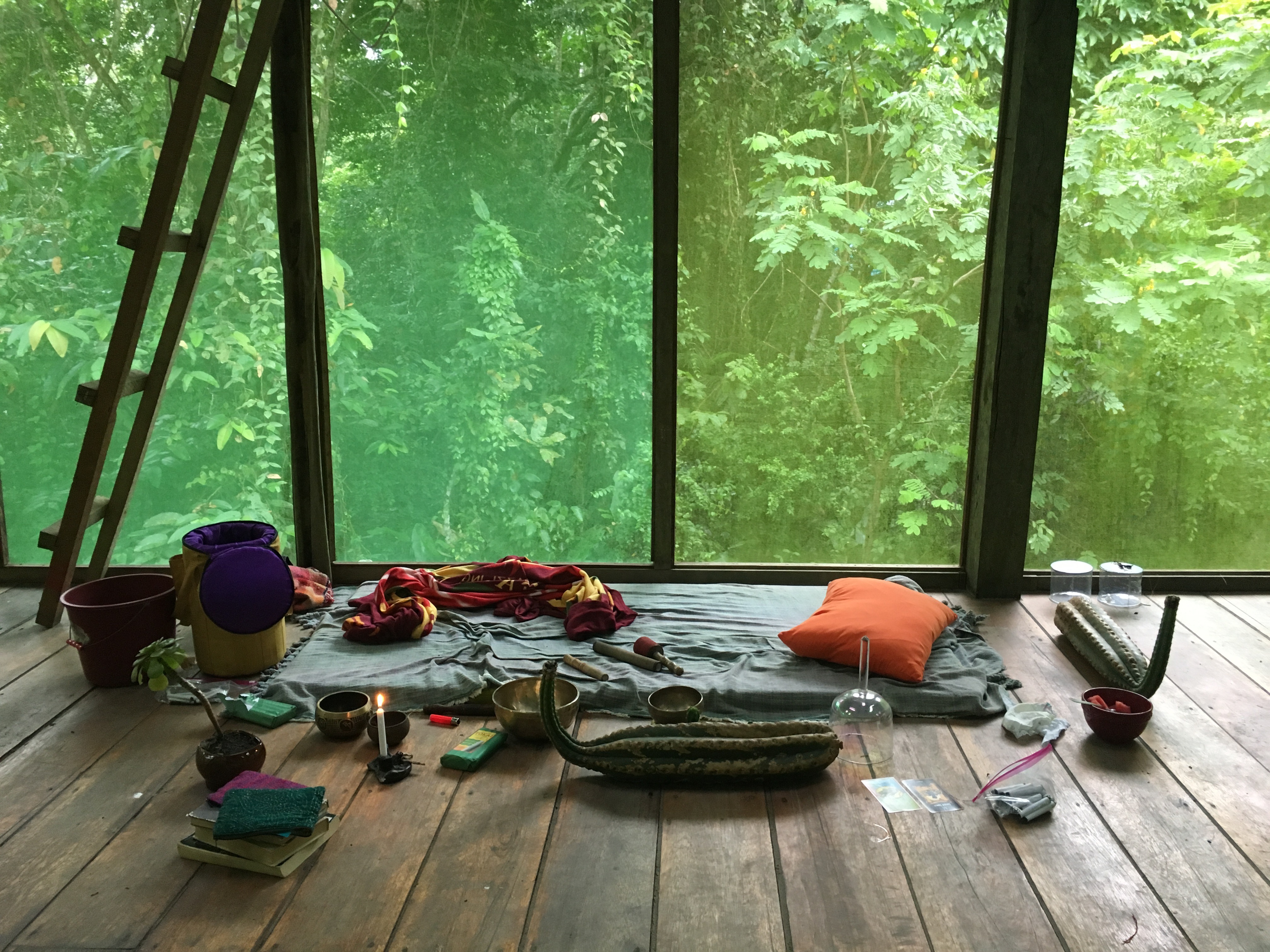 Super Cleanse
$2,500/$3,300
One of the most powerful cleanses you can do for health and rejuvenation is our Supercleanse. This is the ultimate detox, with this unique program combining the use of diet, native Peruvian plant remedies and top-quality Western supplements to clean the system out thoroughly. The program is ideal for those recovering from surgery, serious illness and burnout, or detoxing from medication. 
Spend Time In Amazonian Jungle
Unlike most retreats, we know that one size doesn't fit all. Let the Amaru Spirit in with a customized individual retreat to help you get the most out of your time with us. Or choose one of our tried-and-trusted (by many) retreat packages for an intensive program of maximum healing. Dare to transform!